Twenty long years went by without any new material from the legendary Black Roots, whose Roots blend captivated the music world for many years. The lads from Bristol released "On The Ground" and quenched the thirsts of fans old and new. This Dub album is an intelligent extravaganza that truly thrills. Back in the 1980′s, the group released a series of "Dub Factor" albums that were hard hitting to the bone. Mad Professor and Dub Judah lent their skills to these gems. The multi-talented Louis Becket (extensive work with Black Slate) mixed this Dub album at J & J Studio in Bristol, England, inna fine fashion. It's an urgent work of engineering wizardry that is comparable to the stylings of Dub pioneers King Tubby and his protege Scientist.
"I Believe Dub" is totally believable. The vivid horns are held predominant and the atmosphere is surgically sculpted into a polished affair; not overdone but with pure class. "Pompous Way Dub" holds nice focus on the blazing guitar work that gives way to a stark and smart reworking. The sweet vocals are eerily faded in and out. "Long, Long Ago Dub" brings memory of work on "Dub Factor 3″. Horns, drum and bass are all in the right places. Mr. Becket uses the original Dub style – treat each instrument track like good friends and don't interrupt them. "Militancy Dub" shows the bond between veteran and new members of Black Roots. Newcomer Anthony Ward's taut drumming links well with founding member Jabulani's great guitar licks. "Earthland Dub" is pure class. It is transformed into a Roots anthem with broad focus on the horn section of Ray Carless (ex-Black Slate) /Patrick Tenyue with some sweet vocal fades. "I Am Flying Dub" is pure fly. All out excursion of all instrumentation; polished and buffed to a shine. "Slavery Dub" brings back memories of The Mad Professor-Dub Factor days!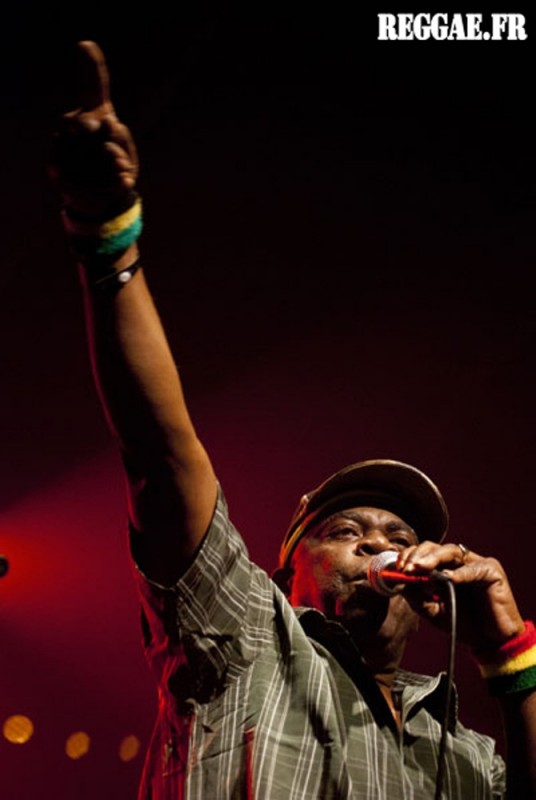 "Oh Mama Africa Dub" is pure joy. Cordell Francis' guitar work and Senouchi Madani's bass magic is taken to the heart of Dub country. "Hide Out Dub" takes on a King Tubby's agenda. David Holder's organ work is brought forward in a way that would make Mr. Ruddock (King Tubby) proud. "No Fee Dub" demonstrates that Black Roots doesn't try to outdo themselves; they're just an incredibly tight band. Another standout is the jazz tinged "Struggle Dub". Ray's sax work is transformed into clean burning inergy along with some great drum and bass transformation. This formula transcends into "Landscape Dub"; interpreted as a lunar "bandscape" – top ranking. The final excursion "Come And Sing Dub" is an earthy and organic blending. From the warming saxophone to the tight drum and bass, this Dub is a tour-de force.
Some albums deserve Dub representation, some do not. Black Roots' "On The Ground In Dub" deserves the former. Dub albums have followed this legendary band many times during the "part one" of their career and is taken to higher ites this time around. Louis Becket and crew have aptly showcased this band's talent intelligently and kept a nice edge on each track. The true tradition of Dub is being kept alive. The vocal set was blazing and "On The Ground In Dub" turns into one of the finest Dub albums in recent memory; hands down. Get this masterpiece or miss out of a piece of Reggae history! Go deh.
Review for www.reggae-vibes.com by Robert "Higherman" Heilman