BLACK SYMBOL – 'Journey'
Set for release on Monday 27th January 2014 on CD via Sugar Shack Records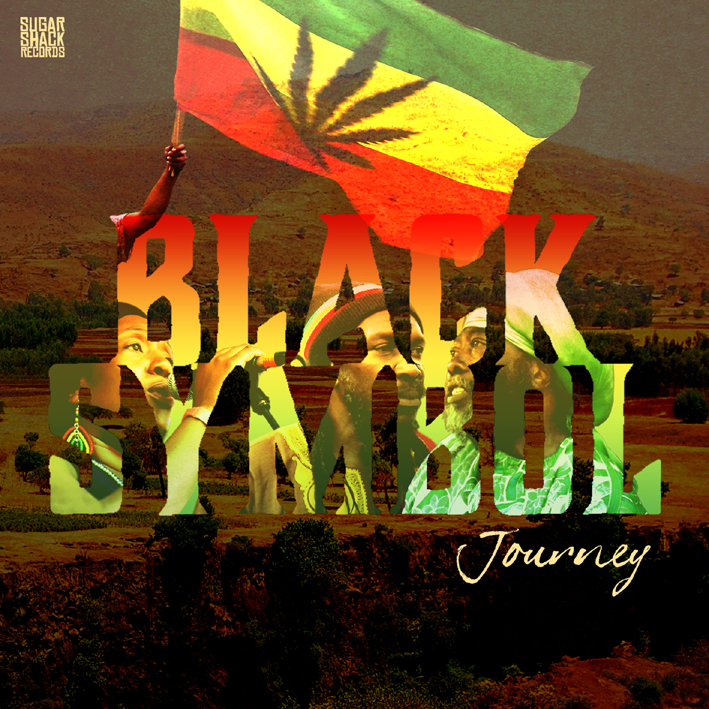 Legendary Handsworth, Birmingham reggae figure Fatman, has returned to the studio and will be releasing the first new Black Symbol album in thirty years when new CD "Journey" is released by Sugar Shack Records.
During the late 1970s and early 1980s, Fatman and Black Symbol helped to put Birmingham's Handsworth area firmly on the reggae map with a series of Black Symbol singles and three albums done in conjunction with other local artists, including the two legendary volumes of "Handsworth Explosion" mostly released on the band's own eponymous label.
Over the last thirty years, those original Black Symbol releases have grown in status as more and more people discover them and the original Black Symbol recordings will see a comprehensive reissue programme by our sister label Reggae Archive Records.
Although the stream of releases had stopped, Fatman himself continued writing and recording music and having already returned to live performance, to great acclaim, he has decided the time is right to release new music and spread the Black Symbol message to a new worldwide audience.
The ten songs on "Journey" are brand new and have been produced by Paul Horton for Ecks Productions. Paul has twice been nominated for a Grammy Award for his work on Steel Pulse's "Victims" and Pato Banton's "Life Is a Miracle". Although the music benefits from Paul's experience and knowledge of the latest production techniques, he's been careful to ensure that the music recalls the Black Symbol of old and retains that original spiritual edge.
Spiritual is perhaps the best word to describe this collection of songs and there couldn't be a more apt title than "Journey"; our lives are a journey. Fatman's journey has taken him from St. Ann's, Jamaica to Handsworth, England and now increasingly he is looking towards Ethiopia and Africa. It is a theme that recurs throughout the songs on this collection.
When Fatman sings "Mama Africa", he sings of Africa as his home land just as much as Jamaica or England. Africa is the mother that gave birth to all humanity whilst in "Bongoman"; he quotes from Psalm 137 a tale of exile and weaves it into a song of great beauty and spiritual power with Nyahbinghi undertones. The theme of travel is repeated in "Morning Dew" and title track "Journey" where he proclaims that "Rasta no build his house on sinking sand". Fatman rejects the corruption of modern society, we must come away from the "muddy water" and drink from the pure spring of Rastafari.
Fatman is not afraid to proclaim his faith throughout this album, in fact that's exactly how he begins with the track "I'm not Afraid". Positive, uplifting and spiritual messages fill the songs on this collection in tracks like "Do Jah Work" and "Let It Shine" whilst "What A Joy", celebrates an imaginary coming together in one love and unity of all branches of Rastafari.
Special mention should be given to Empress Bev, whose backing vocals add so much to the unique sound of this album and help it stand out from the crowd. Black Symbol always sounded different from any other British reggae, the music always felt as though it had flowed straight from a spring in the hills of Jamaica rather than coming from the bricks and concrete of Birmingham and that sound is retained. There is still nobody making music like Fatman, one of the unsung voices of British reggae is back and the time is right for his message to spread to every continent. The journey starts here.
"Journey" is released on CD by Sugar Shack Records on 27th January 2014, available from all leading retailers worldwide.
www.sugarshackrecords.co.uk
ARTIST: Black Symbol
TITLE: Journey
RELEASE DATE: 27th January 2014
LABEL: Sugar Shack Records
DISTRIBUTION: Shellshock
FORMAT: CD
CAT NO: FOD100CD
BARCODE: 5052571053324
GENRE: Reggae, Dub,
Tracks:
1. I'm Not Afraid
2. Mama Africa
3. Bongo man
4. Morning Dew
5. Journey
6. What a Joy
7. Nothing for the Poor
8. Let it Shine
9. Jah People
10. Mr. Money Man