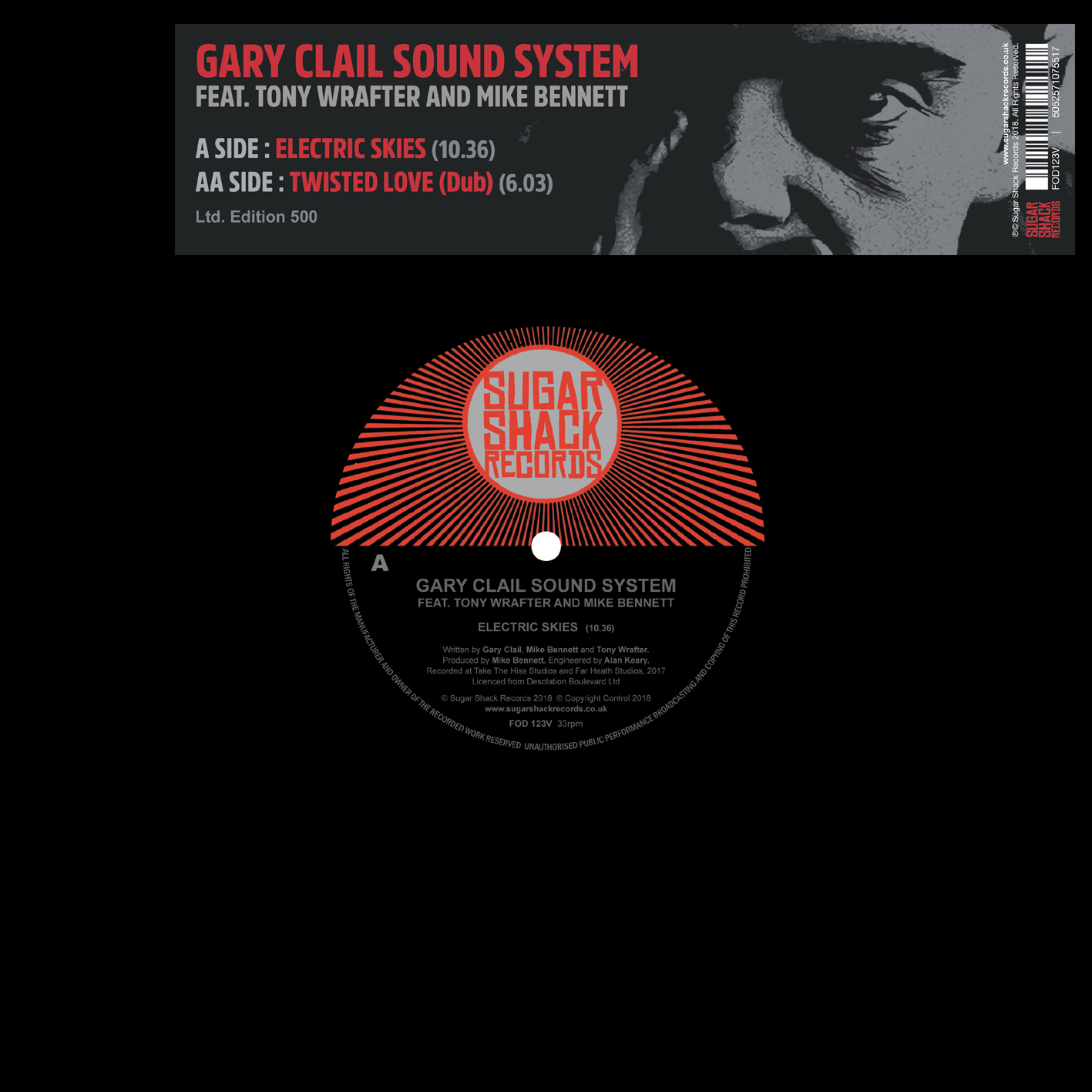 GARY CLAIL SOUND SYSTEM
Emerging from Bristol's early post-punk scene, back in the eighties one-time roofer Gary Clail began to make musical waves with his white-boy toasting over the dub splendours of the On-U Sound reggae stable as a warm-up at their live shows.
With his strong Bristol burr and ragamuffin stage presence, Gary has remained a force of nature ever since. He has a polemical street passion that remains undiminished and his socially conscious pronouncements of dissent are both unsettling and yet sometimes extremely funny. His music is uncompromising, political, often dark but also extremely danceable.
Gary began his recording career in 1985 and he soon achieved his own underground fame. He had a brief flirtation with the overground too when his "Human Nature" single made the top ten in the1992 national charts. Gary disappeared from the music scene for years but formed the Gary Clail Sound System in 2013.
This double A-side limited edition ten inch single on Sugar Shack Records is the result of a series of sessions that took place throughout 2017, when Gary collaborated with producer Mike Bennett, whose credits include Gregory Isaacs, Dennis Brown, The Specials, The Fall and Shane McGowan.
Gary's idiosyncratic On-U Sound System production touches provide the cornerstone to this new track, especially in the enveloping dub sections where veteran multi-instrumentalist Tony Wrafter brings brass and flute parts that add both depth and drama to the piece.
Electric Skies is in three movements and starts off as an industrial workout before morphing into classical-orientated psychedelia, then culminating in a heavy bass-orientated dub.
 Lyrically, Gary is on top form, sending up conspiracy theories about mind-altering chem trails, drones and illuminati.
The second track, Twisted Love (Dub), witnesses Gary's eerie vocals filtered through space echo sounds against a dark, dub-orientated groove provided by Tony Wrafter, again with Mike Bennett and also collaborator Alan Keary, who has worked together with the likes of Dillinger, John Cooper Clarke and Intastella.
The two tracks were recorded in a succession of bedroom studios before being mixed at Far Heath Studios with Angus Wallace, who notably played drums on The Prodigy's Fat of The Land.
Both tracks evade convenient categorisation in a dense thicket of dub, electronica, industrial, classical, and even psychedelia. Enjoy!