Emily Breeze
"Confessions of an Ageing Party Girl"
Released on all digital platforms 29/10/20 via Sugar Shack Records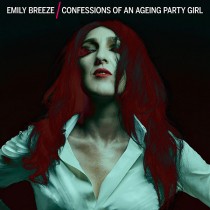 Bristol chanteuse Emily Breeze releases the glitter drenched gothic disco anthem 'Confessions of An Ageing Party Girl'. As slinky as a Blondie classic, 'Confessions' has a tough world-weary melancholy that recalls cult weepy bangers like Amanda Lear's 'Follow Me' or Agnetha Faltskog's 'Wrap Your Arms Around Me'. Swimming in luxuriant synths and whipped along by a minimalist beat, Breeze sashays through the dancefloor casualties to deliver a vocal of beguiling depth on this joyously sad cut. Here is a sing-a-long torch song for those who should have left the party three hours, five drinks, or possibly ten years ago…For those unable to resist the yearning to stay out late and fall in love under an out of focus glitterball.
2019's Rituals album saw comparisons to "A 21st Century Patti Smith" (Tom Robinson), "Nancy Sinatra on Ketamine" (Louder Than War) and "The seedy kitchen sink romance of Pulp, the glamorous artful tragedy of Nick Cave" (God is in the T.V).
"Confessions of an Ageing Party Girl", is the second single from Emily's forthcoming 2021 album and retains these beautifully crafted pop noir trademarks and see's Emily double down on her tendency towards "torch song tragedy….swathed in black humour" (Mojo).
As the lyrics wryly note, "The party's over baby, but I'm never going home". And nor should you.
http://www.sugarshackrecords.co.uk
www.facebook.com/EmilyBreezeMusic
www.instagram.com/emilybreeze66
https://twitter.com/EmilyBreeze66
Photo Credit – Jesse Wild