Emily Breeze
Cult heroine of Bristol's underground music scene, Emily Breeze scales new heights with her remarkable new band and album Rituals. The first two singles "Limousines" and "Ego Death" received airplay from XFM, BBC Introducing in the West and multiple plays from Tom Robinson (BBC Radio 6) and led to Emily being described as "Nancy Sinatra on Ketamine" (Louder than War) and "a 21st Century Patti Smith" (Tom Robinson BBC Radio 6).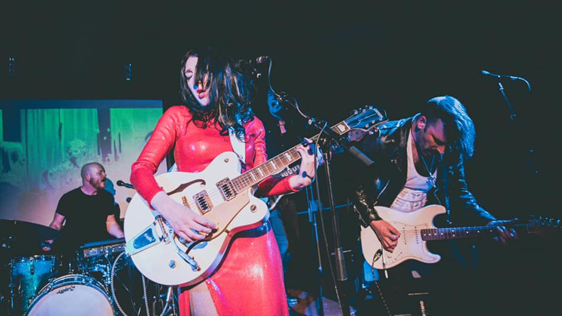 Drawing influence from Vintage Exotica, Lee Hazlewood, Father John Misty, Pulp, David Lynch and all the glorious trash and terror of 21st century life on planet earth, this selection of songs are injected with a level of cynicism and pitch black humour that only a true romantic with a deep love for humanity can get away with.
Produced by Bristol luminary Stew Jackson writer, producer for Massive Attack, who has also worked with Tom Waits, Patti Smith and Nick Cave, Breeze and band Rob Norbury (guitar), Andy Sutor (drums) Duncan Fleming (organ), and Graham Dalziel (bass) have conjured a velveteen, lounge noir soundscape, smeared with last night's lipstick and stinking of stale nicotine to temper these tales of dreary day jobs, antidepressants, serial killers, crazed cult leaders and high octane romance.
Rituals is an album of sad songs from a strip club in outer space for dropouts, deviants and dreamers and is released on 6th September 2019 via Sugar Shack Records.
ARTIST: Emily Breeze
TITLE: "Rituals"
RELEASE DATE: 6th September 2019
LABEL: Sugar Shack Records
GENRE: Alternative / Singer, Songwriter
DISTRIBUTION: Shellshock via Proper
CAT NO: FOD131V / FOD131CD
BARCODE: 5052571082317 / 5052571082324
WEBSITE: www.sugarshackrecords.co.uk
Cat No:
FOD131V / FOD131CD
Format:
Vinyl, CD and Digital Download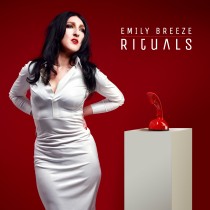 Rituals
Emily Breeze
TRACKLISTING
Call in Sick Today
Work
Limousines
New Flesh Old Bones
Raining in My Heart
Heavens Gate
Ego Death
Book of Longing
Lovesong for Aileen Wuronos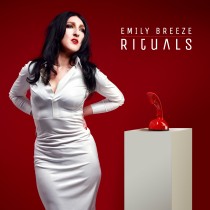 Your browser does not support the audio element.
Emily Breeze