Jashwha Moses
'THE RISING'
Released on LP, CD and Digital Download 22nd June 2015
'Jashwha delivers formidable roots reggae the kind that dominated Jamaica's sound systems in the mid to late 70's' – Mojo 4/5
'The impression of a Reggae Auteur in the same league as Pablo Moses or Kiddus I' – The Wire
Having taken more than thirty five years to deliver his first original album, Jashwha Moses has taken heed of the overwhelmingly positive response from fans old and new and wasted little time in recording a brand new follow up to 2013′s "No War on Earth". The new album titled "The Rising" continues to spread the Jahggae message with backing from Full Force and Power and the production side of things once more being undertaken by long term collaborator MIKEY.
Building on the success of the previous album and having spent the last two years honing both his performance skills and his songs through a series of well received live shows, Jashwha's music has progressed and evolved yet, at the same time he delivers more of the same with a selection of roots music infused with his own blend of spirituality.
Particular treats include the songs "Crazy (Version)" and "Nothing to Lose" where Jashwha utilises his falsetto voice to great effect. "Crazy (Version)" in particular, is very reminiscent of Junior Murvin during his classic Black Ark period which in itself is some compliment to Jashwha's singing ability and Mikey's production values.
"The Rising" is released by Sugar Shack Records on 22nd June 2015 and is available as a vinyl LP containing nine songs and as a CD and digital download both of which round the number of songs up to an even dozen.
Jahggae has truly arrived – Peace and Love
ARTIST: Jashwha Moses
TITLE: "The Rising"
RELEASE DATE: 22nd June 2015
LABEL: Sugar Shack Records
DISTRIBUTION: Shellshock / SRD
FORMAT: CD and Digital Download
CAT NO: FOD108V/FOD108CD
BARCODE: 5052571059319 / 5052571060629
GENRE: Reggae, Dub, Jahggae
WEBSITE: www.sugarshackrecords.co.uk
Cat No:
FOD108CD / FOD108V
Format:
LP
Cat No:
FOD 108V
Format:
CD
Cat No:
FOD 108CD
Format:
Digital Download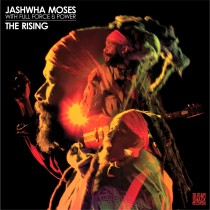 The Rising
Jashwha Moses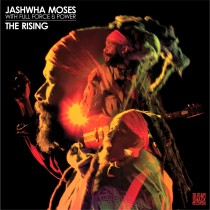 TRACKLISTING
What a Situation
Crazy (version)
Rise Up
No! Not I and I
Do Not Weep (A Meditation)
People Of Power
I Believe
Nothing To Lose
Bad Situation – (Feat Moonsy v The Masked Musikian)

Additional tracks on CD and Digital

The Free Bird
Jah Time Will Come (Live)
Power Crazy People – Stop The War (Live)